Brief History of the office of the Principal Director of Audit :
This office was formed as the Office of the Chief Auditor, South Central Railway with effect from 2nd October 1966 when South Central Railway Zone was formed. The office was subsequently renamed as Office of the Director of Audit in 1979 and to its present name viz., Office of the Principal Director of Audit in 1990.
Audit Duties :
The Principal Director of Audit is responsible for
Audit of Accounts of the South Central Railway Zone, Review and Certification of the Annual Finance and
Appropriation Accounts of the Zonal Railway.


Audit of transactions relating to Receipts and Payments through Central Audit and Local Inspections.
Contribution of material for CAG's Report on the Union Government (Railways) viz., Draft Paras, Local Reviews
and Central Reviews.
| | | |
| --- | --- | --- |
| Principal Director of Audit | - | Sri Biren Parmar |
| Director (Admn & Traffic) | - | Shri T.S.R.Gupta |
| Dy.Director(Construction, Workshop & Stores) | - | Shri K.Venkataramanan |
South Central Railway :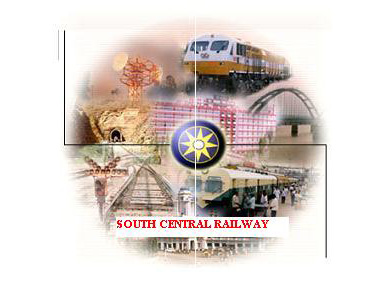 South Central Railway was formed on 02.10.1966, when Hubli and Vijayawada Divisions of Southern Railway and Sholapur and Secunderabad Divisions of Central Railway were carved out and merged into a new zone. Subsequently, Guntakal Division of Southern Railway was merged with South Central Railway on 02.10.1977 and Sholapur Division was remerged with Central Railway. Secunderabad Division was split into two Divisions viz., Secunderabad and Hyderabad on 17.02.1978.
With effect from 01.04.2003, six full-fledged divisions viz., Secunderabad, Hyderabad, Vijayawada, Guntakal, Guntur and Nanded are in operation on South Central Railway. Hubli Division, which was earlier in South Central Railway, has become a part of the South Western Railway with Zonal HQrs. at Hubli.
Jurisdiction :
South Central Railway serves the major portion of the States of Andhra Pradesh, Maharasthtra and small portions of Karnataka, Tamilnadu and Madhya Pradesh.
Profile :
1.
Route Km.
5803.362
(BG: 5627.432)
(MG: 175.93
2.
Number of Divisions
06
3.
Number of Stations
689
4.
Number of States covered
05
5.
Originating Earnings -2011-12
Rs.8200.83 Crores
6.
Apportioned Earnings -2011-12
Rs.9326.95 Crores
7.
Originating loading -2011-12
103.172 MT
8.
Originating passengers -2011-12
383.992 millions
9.
Number of Trains run daily:
Mail/Express trains
Passenger Trains
Suburban Trains
MMTS Trains
699
218
302
58
121
| | | |
| --- | --- | --- |
| 10. | Staff Strength as on 30-11-2010 | |
| | Sanctioned | Actuals |
| Total Staff | 101855 | 84145 |
Route Kilometerage:
(as on June 30, 2012)
The total kilometerage of the South Central Railway (State wise & Gauge-wise) is as under :
| | | | |
| --- | --- | --- | --- |
| State | BG | MG | Total |
| Andhra Pradesh | 4348.440 | 0 | 4348.440 |
| Maharashtra | 1010.070 | 105.750 | 1115.820 |
| Karnataka | 268.690 | 0 | 268.690 |
| Madhya Pradesh | 0 | 70.180 | 70.180 |
| Tamilnadu | 6.860 | 0 | 6.860 |
| Total | 5634.060 | 175.930 | 5809.990 |